The Next-Gen 2023 Acura Integra

The 2023 Acura Integra is Crafted With Passion
Over 30 years ago, the Integra hit the streets fueled by passion and youthful energy. That same spirit of the original premium sport compact returns as a bold 5-door design to deliver legendary emotional performance with versatility. A new premium performance gateway for the next generation of Acura customers. The Integra is the only liftback in its class. It features class-leading cargo volume and rear-seat legroom.
Performance Design
The Next-Gen Integra was given a modern edge. The new Diamond Pentagon grille features a frameless open grille design that is functionally grounded in performance and visually bold with confidence.
Acura has taken the LED Design and given us high-performance lighting.  It is incorporated all around with striking rear LED taillights and exclusive Jewel Eye LED headlights with unique signature Chincane LED daytime running lights.
The integrated nameplate is a part of the Next-Gen Integra design. The 2023 Integra nameplate is embossed on both front and rear bumpers – a mark that is unmistakably Integra.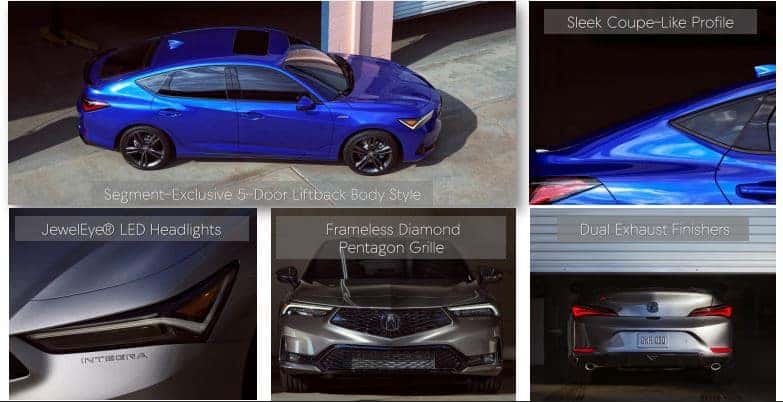 Driving Spirit
The Integra Prototype is propelled forward by a VTEC® Turbo engine, the first-ever factory turbocharged engine for an Integra. The high-output turbocharged engine delivers 200 horsepower. Buyers can choose between a segment-exclusive 6-speed manual transmission or a sport-tuned automatic. With an available 6-speed manual transmission and limited-slip differential, there is no shortage of exhilaration as you row your own gears in full control. Performance isn't just a goal, it's the language we speak.
EXPRESSIVE EXTERIOR COLORS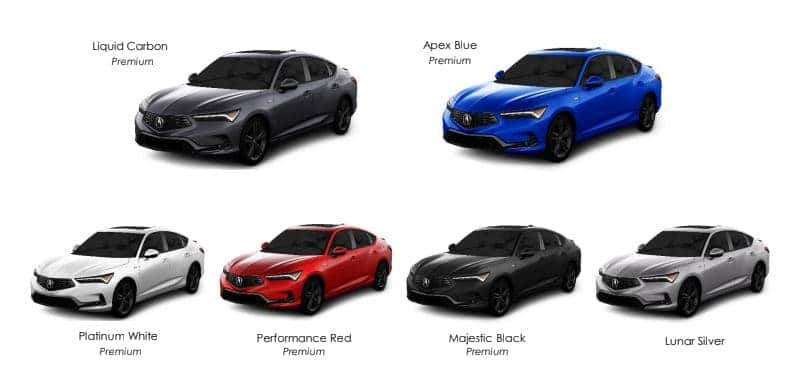 PREMIUM INTERIOR DESIGN AND FEATURES

A high level of standard tech features includes a 10.2-inch Acura Precision Cockpit digital gauge display, standard Apple CarPlay, and Android Auto, USB-C charging, and an 8-speaker premium audio system. High-tech available features include wireless smartphone charging. Amazon Alexa Built-In, a 16-speaker ELS STUDIO 3D audio system and head-up display.
All Integra touchpoints impart a premium feel. When equipped with the A-Spec Package, Integra communicates its performance edge with stainless steel pedals, red gauge needles, and red contrast stitching wheel, seats, shifter, and shift boot.
Stay Informed on The 2023 Integra